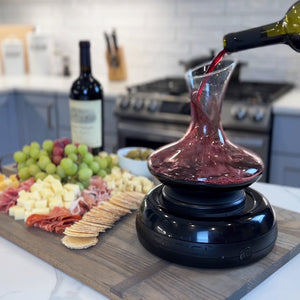 Aerisi Wine Aerating System with Decanter
Sale price Price $99.99 Regular price $149.99 Unit price / per
AERISI Wine Aerator includes: 

1 Aerisi base unit 9" dia. x 3.25"h, 3 lbs. (requires 5 "C" batteries).
1 glass decanter* 7.25" dia. x 8.5"h, 

designed to hold 750 ml of wine 

(1 bottle) - wine not included
If you're hosting a dinner party or event, be sure to add another glass decanter or two so that your guests can enjoy a constant flow of your favorite vintage.
- Manufactured and assembled in the USA with domestic and imported parts. Your support means more than ever for American small businesses. Aerisi is in stock and ready to ship directly from our facility in Elk Grove Village, Illinois.
Aerisi Wine Aerator. The simple, quick, and sophisticated personal aerator and decanter that brings out all the finest flavors and aromas in your favorite wine with one touch of a button.
It's sleek design was created so all you have to do is hit start.  No custom designed decanters, no magnets, no apps, no passwords, no icons or digital displays. Just an aerator that treats your favorite wines with care, circulating the oxygen it needs to breathe fully and soften astringent tannins, all in five minutes. It is like having a sommelier's expert hand-swirl available, wherever you are, whenever you are ready to pop that precisely aged cork.